In Albania, a country of rich history and breathtaking landscapes, there are some truly remarkable hotels that offer unconventional stays, promising an unforgettable journey. From treetop retreats to historical castle stays, these extraordinary hotels in Albania provide an enchanting twist to the traditional hotel experience. I will introduce you to some of the most exceptional hotels in the country, where you can immerse yourself in a world of wonder and embark on a truly memorable adventure. Additionally, to help you realize your dream stay, I will include reputable online booking platforms for a seamless and hassle-free reservation process.
Ksamil Treehouses – Ksamil
Nestled amidst the lush greenery and just steps away from the turquoise waters of the Ionian Sea, Ksamil Treehouses offer a truly unique and eco-friendly stay in Albania. These enchanting treehouses blend harmoniously with nature, providing a secluded and peaceful retreat for nature lovers and adventurous souls. Wake up to the symphony of birdsong and enjoy panoramic views from your private treehouse balcony. To book your unconventional treetop escape at Ksamil Treehouses, visit their official website or explore Booking.com for easy and secure reservations.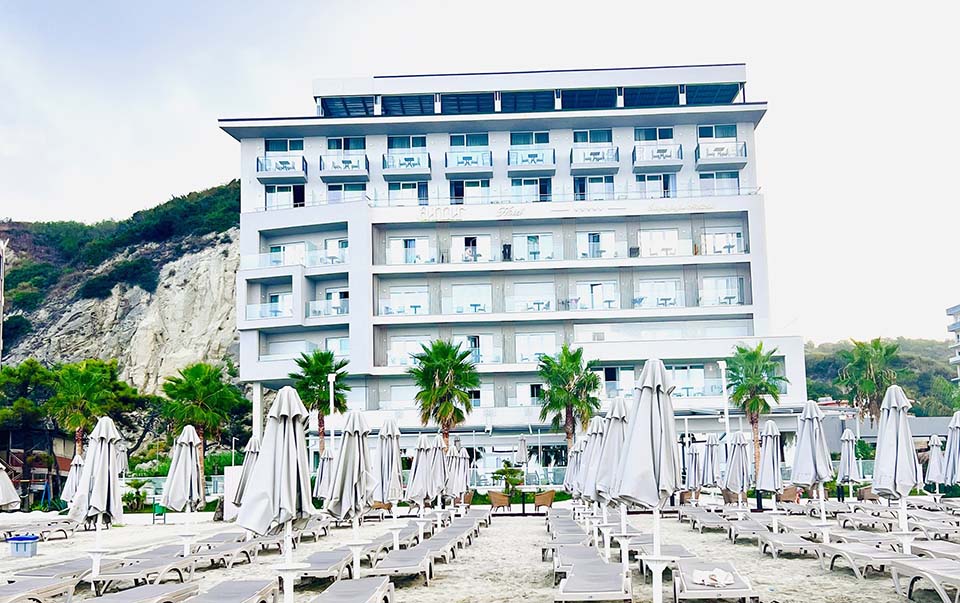 Rozafa Castle Hotel – Shkodër
For a stay with a historical twist, look no further than Rozafa Castle Hotel in Shkodër. Located within the ancient walls of Rozafa Castle, this one-of-a-kind hotel offers guests a chance to step back in time and immerse themselves in Albania's rich history. The hotel's rooms are thoughtfully designed to blend seamlessly with the medieval surroundings while providing modern comforts. From the hotel's terrace, revel in breathtaking views of Lake Shkodër and the surrounding landscapes. To experience a historical stay like no other at Rozafa Castle Hotel, book your reservation through their official website or via Booking.com.
Dajti Tower Belvedere Hotel – Dajt
Perched atop the majestic Dajti Mountain, the Dajti Tower Belvedere Hotel is an architectural marvel that provides an extraordinary stay in Albania. The hotel's circular design allows for breathtaking panoramic views of Tirana, the bustling capital, and the sprawling landscapes below. Access the hotel via a thrilling cable car ride, adding to the excitement and exclusivity of the experience. The Dajti Tower Belvedere Hotel offers a unique perspective of Albania's capital city, making it an unforgettable destination. To secure your stay at this iconic hotel, visit their official website or utilize Booking.com for a seamless and convenient reservation.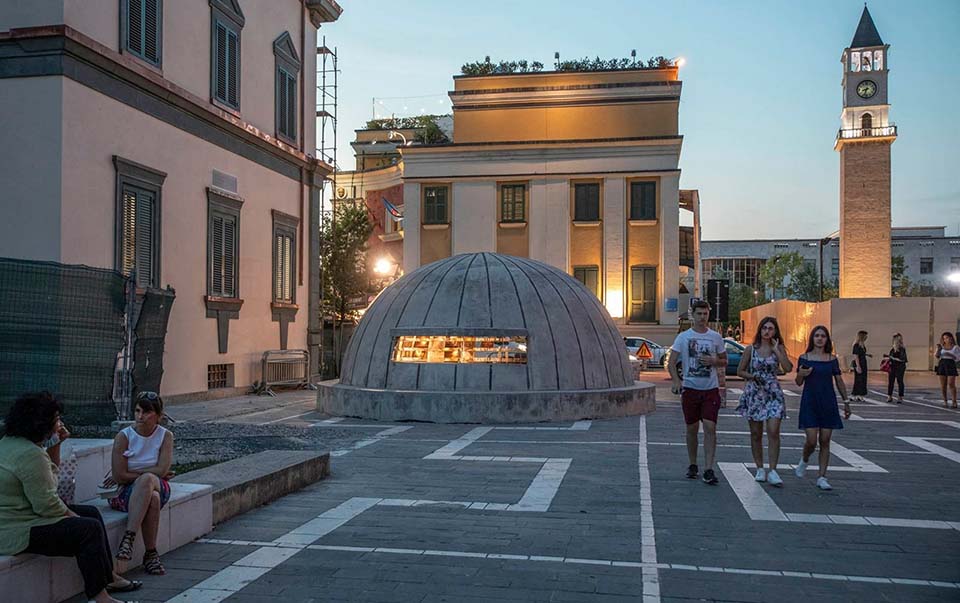 Kaduku Hotel – Gjirokastër
Nestled within the historic city of Gjirokastër, the Kaduku Hotel offers an unconventional stay in a beautifully renovated Ottoman-era building. The hotel's architecture and design reflect the city's rich cultural heritage while providing modern-day comfort. Each room is uniquely adorned with local crafts, creating an authentic and charming ambiance. Guests can explore the UNESCO-listed old town and visit nearby attractions, including the Gjirokastër Castle and Ethnographic Museum. To experience the cultural allure of Gjirokastër at the Kaduku Hotel, book your stay through their official website or via Booking.com.
Cobo Winery Hotel – Shushicë
For wine enthusiasts and those seeking a wine-themed stay, the Cobo Winery Hotel in Shushicë offers a delightful and extraordinary experience. Nestled amidst picturesque vineyards, this boutique hotel is dedicated to showcasing Albania's winemaking tradition. Each room is named after a different grape variety, adding a touch of elegance and authenticity to the stay. The hotel's restaurant serves delectable dishes paired with local wines, creating a memorable and mouthwatering gastronomic journey. To savor the wine country experience at the Cobo Winery Hotel, book your reservation through their official website or explore Booking.com for easy and hassle-free bookings.
Albania's unconventional hotels offer travelers a chance to immerse themselves in extraordinary experiences that go beyond the ordinary. From the treetop haven of Ksamil Treehouses to the historical charm of Rozafa Castle Hotel, these hotels redefine the concept of hospitality and allow guests to create cherished memories. The architectural marvel of Dajti Tower Belvedere Hotel atop Dajti Mountain and the cultural allure of Kaduku Hotel in Gjirokastër add to the country's diverse range of extraordinary stays. For wine enthusiasts, the Cobo Winery Hotel in Shushicë offers a wine-themed escape that tantalizes the taste buds. To make your unconventional stay a reality, utilize reputable online booking platforms such as Booking.com or visit the hotels' official websites. Embrace the unexpected and embark on an extraordinary journey in Albania with these exceptional hotels. Happy travels!