Iceland, a land of stunning landscapes and thriving business opportunities, has become an appealing destination for business travelers seeking a unique blend of comfort and productivity. we embark on a journey to explore Iceland's finest business hotels, designed to cater to the needs of discerning corporate travelers. From modern facilities to strategic locations, these hotels strike the perfect balance between business and pleasure. Join me as we delve into the world of business hotels in Iceland, discovering the ideal accommodation for your next successful corporate trip. To ensure a seamless booking process, I will also include trusted platforms where you can secure your stay.
Radisson Blu Saga Hotel, Reykjavik
Nestled in the heart of Reykjavik, the Radisson Blu Saga Hotel is a prime choice for business travelers. The hotel boasts a range of spacious meeting rooms, equipped with state-of-the-art technology, ideal for conferences and corporate events. Business Class Rooms offer a comfortable and productive atmosphere, while the Executive Lounge provides a dedicated space for networking. After a busy day, unwind at the hotel's fitness center or savor breathtaking city views from the rooftop terrace.
Booking Platform: Booking.com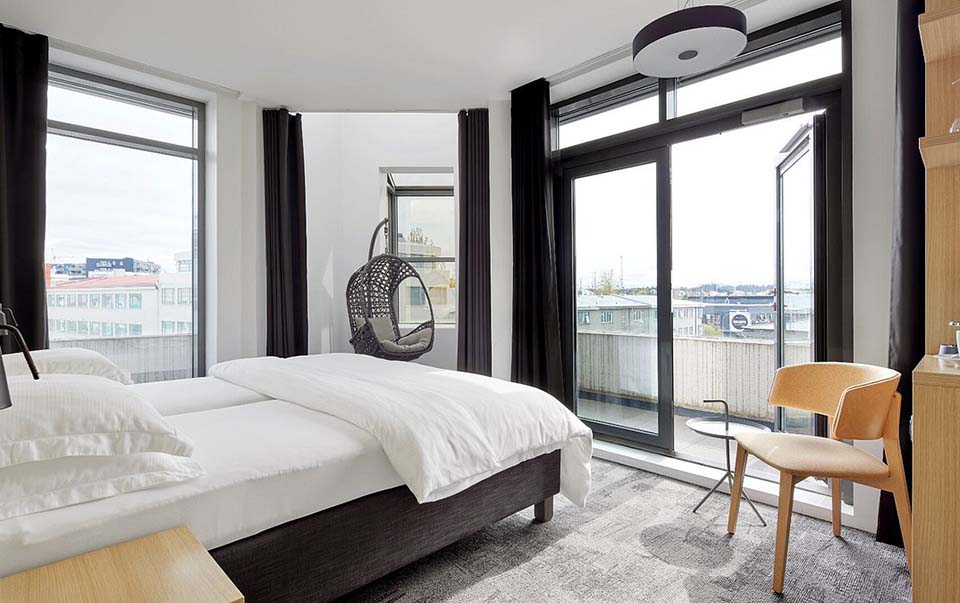 Hilton Reykjavik Nordica, Reykjavik
The Hilton Reykjavik Nordica exudes modern sophistication, making it an excellent option for corporate guests in Reykjavik. The hotel's business center features meeting rooms and cutting-edge audiovisual facilities, perfect for hosting professional gatherings. Executive Rooms and Suites provide a luxurious and tranquil retreat for unwinding after a day of meetings. To relax, guests can indulge in the hotel's spa and sauna or savor delectable cuisine at the Vox Restaurant.
Booking Platform: Expedia
Icelandair Hotel Reykjavik Marina, Reykjavik
Located near the city center and harbor, Icelandair Hotel Reykjavik Marina combines business with pleasure. The hotel's meeting facilities and business lounge cater to the needs of corporate guests. Stylish and comfortable rooms offer a relaxing stay, while nearby attractions provide opportunities for leisure and team-building activities. Explore Reykjavik's vibrant cultural scene, with galleries, shops, and restaurants just a short walk away.
Booking Platform: Hotels.com
CenterHotel Arnarhvoll, Reykjavik
CenterHotel Arnarhvoll is a modern and centrally-located hotel, offering convenience and comfort for business travelers. Its well-equipped meeting facilities are perfect for professional gatherings, and the complimentary Wi-Fi ensures seamless connectivity. Guests can unwind at the Sky Lounge, which offers panoramic views of Reykjavik's skyline, or explore nearby landmarks like the Harpa Concert Hall and Hallgrimskirkja Church.
Booking Platform: Booking.com
Grand Hotel Reykjavik, Reykjavik
The Grand Hotel Reykjavik strikes a perfect balance between elegance and functionality, appealing to business travelers seeking a luxurious stay. The hotel's extensive conference facilities, including the Grand Ballroom, cater to events of all sizes. Executive Rooms provide added comfort and access to the Executive Lounge. For relaxation, guests can indulge in the hotel's spa and swimming pool or take a short drive to explore Iceland's famous natural wonders, such as the Blue Lagoon.
Booking Platform: Expedia
Hotel Kea by Keahotels, Akureyri
For business travelers venturing to northern Iceland, Hotel Kea by Keahotels in Akureyri offers a warm and welcoming atmosphere. The hotel's meeting facilities and attentive staff ensure a productive stay. Well-appointed rooms provide a cozy retreat, while the hotel's restaurant, Mulaberg Bistro & Bar, serves delightful Icelandic cuisine.
Booking Platform: Hotels.com
Iceland's business hotels offer a harmonious fusion of comfort and productivity, catering to the needs of corporate travelers seeking a seamless experience. From the vibrant cityscape of Reykjavik to the tranquil charm of Akureyri, these hotels provide an ideal environment for work and relaxation. Secure your stay through trusted platforms like Booking.com, Expedia, and Hotels.com, ensuring a productive and enjoyable business trip to Iceland. Embrace the charm of this enchanting country while making your corporate ventures a success in a comfortable and professional setting.